This is why I should never put PurseBlog link on my blog.
I've been in love with this bag for so long, but never really embrace the idea of buying it because :
It's so hard to find its stores in Japan

Buying a bag online is actually a big no unless the site is trusted

Refer to number 1 again
It debuts during Marc by Marc Jacobs Fall/Winter 2009 collection, so it's not exactly new and most of you might have seen it everywhere.
Marc by Marc Jacobs Classic Q Baby Groovee Satchel.
So, so pretty.
I'm very small so I don't like oversized handbags, and this comes in a regular size and smaller size (above) plus it's versatile, having both the hand held and shoulder strap. I like the way it represents the classic style and chic at the same time.
Comes in a range of colors too, though I'm pretty sure I'd get the brown one (above) if I ever buy one. Or black.
The MBMJ website. Haha so cute!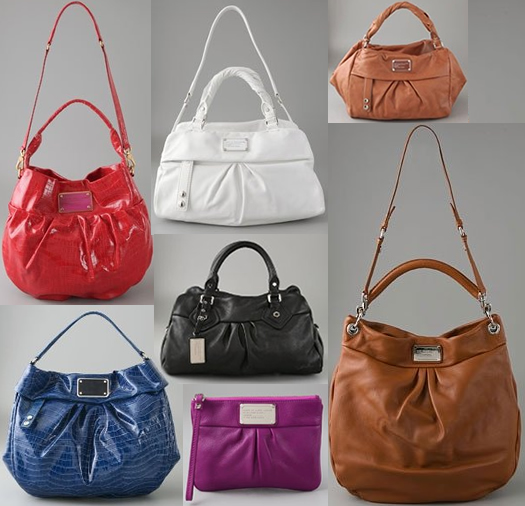 A few years ago I had my Coach Carly phase; I was so in love I felt the need to have it in my hands in an instant. Well this feels very similar. Kept browsing for a few hours (days, actually) and can't get my mind out of it! This is love.
Personally, I would prefer MBMJ line rather than the Marc Jacobs. Very nice colors, various shapes and types, chic, and most importantly affordable.
Japan doesn't have lots of MBMJ collection; especially its bags. I see the Marc by Marc Jacobs nylon totes everywhere, but not any from the Classic Q line.
Retails for $348 which is around 28500 yen, but it's very expensive here -_- Rakuten has it around 50000 yen, so I'm guessing it'll be more expensive in stores.